Outdoor Adventure
Find this article at:
go.ncsu.edu/readext?304717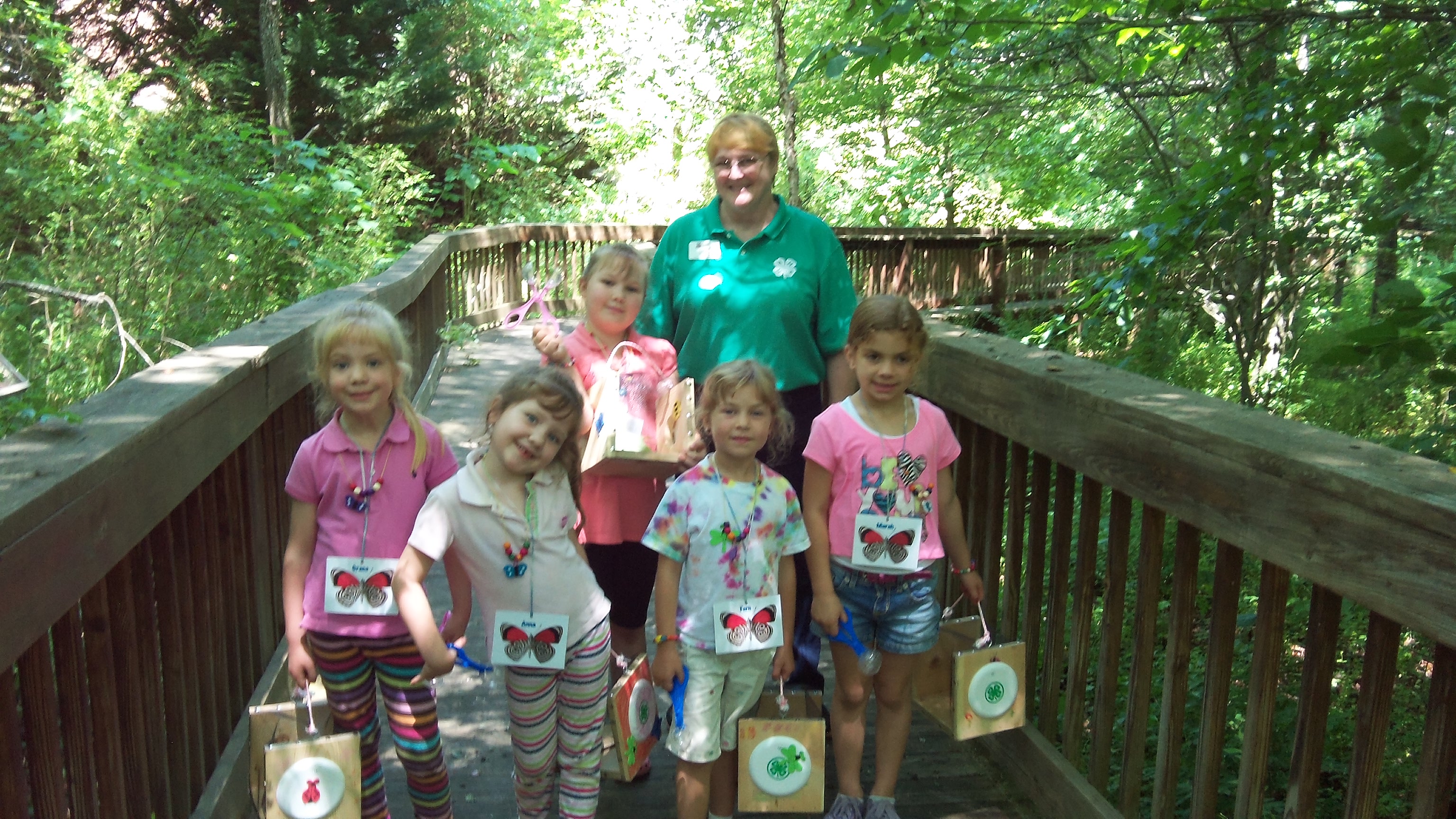 What a blast! We had so much fun on June 17, at our first 4-H Day Camp. Participants arrived early Tuesday morning curious as to what lay in store for them. As we waited for all campers to arrive you could see a small hint of uncertainty in their eyes. The heavy fog gave the outdoor classroom an eerie feeling. The morning started with bug facts. Campers learned about good, bad and neutral insects. We progressed through all the things bugs do as an important part of our environment. We touched briefly on spiders and other arachnids. Then the real fun started! Each camper built and decorated a Critter Keeper to assist in catching insects and spiders for further observation. Everyone quickly forgot about being afraid of bugs in the excitement of the hunt. Natural curiosity was rampantly obvious when the magnifying lenses came out to examine their catches.
The fun continued with jewelry craft, which made a good transition into the second half of the day when we started learning about magnificent trees. Mr. Ray, from the Forestry Service, came to teach our campers a little about trees. With his help, they learned how to tell how old a tree was and tell if there had been good or bad growing seasons. (Campers also used their new magnifying lenses to help Mr. Ray count the tree rings.) They learned about the different layers that make up a tree and how insects may have a part in their life cycles. Campers learned about the hundreds of things trees are used to make that impact our everyday life. This led to an exploration to examine different trees in our area. As we neared the end of the day, campers watched The Lorax and discussed why it was important to protect our trees. We ended the day with leaf rubbings, drawings and a tree notebook filled with activities to use throughout the summer.
We started out the day as a group of strangers and left as friends and fellow explorers. On July 22, we will have another camp for 9 – 14 year olds and hope to see many more youngsters come learn with us. You can get more information by coming to the Extension Office or calling 828-389-6305. Registration ends July 15, for this camp.
We are grateful to our many partners who helped make this camp and the next one possible. In no specific order, THANK YOU! to Owle Containers, Moss Memorial Library, Clay County Farm Bureau, Lowe's of Murphy, Catherine Brown and Ingles Markets. Additionally, thanks to the volunteers Carolyn Krueger, Catherine Brown, May Atkinson, Benita England and Bill Ray who helped to make all of this possible. Special thanks to Julie Lyvers, Extension Administrative Secretary for her help in documenting our fun with pictures. Without the support of adult volunteers, 4-H could not survive. If you would like to "Join the Revolution of Responsibility" and be a 4-H volunteer, please call Clay County Cooperative Extension and be the one to make a difference in our young people's lives.
To see our adventure click here: http://youtu.be/yfSc1tDNa78