AG Newsletter-October 2014
Find this article at:
go.ncsu.edu/readext?323877
WNC AgOptions Grant Cycle Begins
Clay County Soil Sample Drive

SAFF Farm Tour – 11/8
Turf & Landscape Professionals Seminar – 11/14
Pesticide Licensing Exam – 12/3
WNC AgOptions Grant Cycle Begins
If you have an idea for a small farm business enterprise that you would like to try to get help funding, the AgOptions Small Farms Grant may help your idea along. Each year, according to program funding through the NC Tobacco Trust Fund, Extension offers an AgOptions grant opportunity to the Western NC Counties. Grants range from $3,000-$6,000 for small farms. The grants are reviewed and awarded based on potential success and demonstration of successful farming practices to the local agriculture community, experience and expertise to accomplish the project, and adequate research of markets, expenses and project timeline.
Each year, 30-40 grants are awarded to western North Carolina farms. Applications have now been made public and are available upon request from local county Extension Offices or online at 
http://www.wncagoptions.org/applications-for-2015-farm-grants-available/
. Farmer grants are due by 
November 21, 2014
. Since 2004, thirteen grants have been received by Clay County farmers. Who knows, this year, yours could be one of them.
Free Soil Sampling & Shipping
Soil samples taken from now through 
November 21
, can truly be free for those who bring them into the Clay County Extension Office. Sample analysis is a free service during the months of April-November, although farmers and gardeners still have to pay the postage to mail the samples to Raleigh, which generally runs $3-$4 per sample.
However, soil samples brought into the Clay County Extension Office from 
September 1-November 21
, will be shipped by Extension. So, take advantage of this, truly free, opportunity to do your soil sampling.
Soil sample boxes and information sheets can be picked up at the Extension Office and samples will be shipped weekly. Results should be available online within 2 weeks of shipping, or you can contact Extension to obtain the results after that time.
Southern Appalachian Family Farms presents the Far West Livestock Tour from 9 a.m. – 4 p.m. Saturday, November 8. There will be educational demonstrations by local farmers and fiber producers instructing on how to raise and care for small livestock. The public is invited to attend at no charge. The self-guided tour will start at Misty Ridge Farm, 475 Rivercane Road, Brasstown, NC. Michael Davis will feature his goat herd and Woody Ham from Two Crows Alpacas will be discussing Alpaca fiber production. The tour continues by caravan to Jenny Miller's Mountain Naturals Farm and sheep herd and will talk about the use of fibers. Next, A Touch of Heaven Alpacas will demonstrate spinning fiber. Complimentary lunch will be served at High Mountain Meadows Creamery at 486 Double Knobs Drive, Hayesville at 12:30 p.m.. Donna Gains will be featuring cheese making from her Alpine goat herd. Dr. Amanda Gamble, DVM, from Andrews Veterinary Hospital will provide education about the care of small livestock. In addition, Charlotte Crittenden from the Yarn Circle will be demonstrating handling fibers. There is no charge for the educational farm tour and lunch, but please call for reservations and more information Michael (828) 837-1280 or Donna (828) 506-5566. Consider joining SAFF (Southern Appalachian Family Farms) www.SouthernAppalachianFamilyFarms.com or make a donation. Flier below: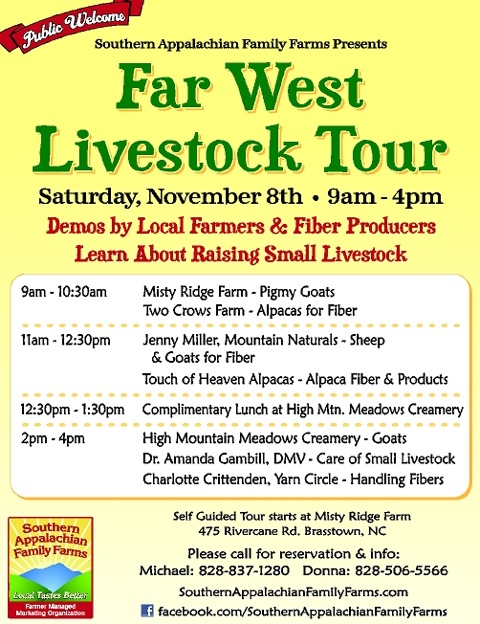 Lawn & Landscape Professional's Seminar
Extension will host a seminar on Friday, November 14, to focus on local lawn & landscape issues. The program will be held at the Brasstown Community Center and will begin with registration at 8:15 and conclude by 3:30. This will provide an opportunity to anyone in this field of work to learn useful tools in dealing with turf or ornamental care and management. Topics will include:  pest identification (weed, insect & disease) and management of each in turf grass and the general landscape; nutrient management; changes in the NC Landscape Licensing;  and planting and pruning of ornamentals. NC State Extension Specialists will also be on hand to help conduct the program (Dr. Barbara Fair, Extension Horticulture Specialist and Cliff Ruth, Extension Area Agent). The program will also carry 3.5 hours of pesticide recertification credits for anyone with NC Private or Commercial License (categories L, N, D and X). The registration cost will be $20/person until November 12, and $25 thereafter. This will include the cost of lunch as well as resource and training material for the program. To preregister for the program, contact the Clay County Extension Office at (828)389-6305 or by email (silas_brown@ncsu.edu).
Pesticide license is required in order to purchase a Restricted Use Pesticide as well as for anyone who applies pesticide (whether restricted use or not) for hire. For anyone wishing to obtain a pesticide license for either private or commercial use, there will be a review and exam held at the Clay County Extension Office on 
Wednesday, December 3
. The review will take place from 
10:00 a.m.-12:00 noon
 and the exam will follow at 
1:00
. Please contact me to discuss the type of license you will need as well as how to obtain the appropriate study material. Prices vary according to license type (private is $10 for the exam and commercial is $70 for the exam-there is a fee for the study materials for each exam ). These licenses pertain to the purchase of any Restricted Use pesticide, whether herbicide, insecticide, fungicide, etc. If you apply ANY pesticide for hire, you are required to have a commercial license and keep records of applications. Please contact Silas if you have any questions (389-6305).