Swedish Egg Coffee – News to You?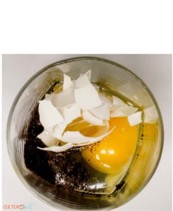 Are you a coffee connoisseur or just a fan of a good cup of Joe? I recently encountered problems while trying to get that good cup of coffee at work. I am not sure what the problem was but the coffee was terrible! It was not the coffee brand; it was one that we had personally used at home with no problems. So we figured that it must be the water and moved on deciding to bring our coffee in a mug from home.
Then I recalled an experiment that I tried several years back. In my previous office, we had, on hand, an off brand of coffee that we all agreed on – that it was the pits of great tasting coffee! I had found this article on Swedish Egg coffee and was intrigued. "According to legend, this unique method of brewing coffee originated en route from Sweden to America in the late 1800's."  The article claimed to use any coffee brand and an egg to achieve a great tasting coffee without any bitterness! The gauntlet was thrown! We gathered to try out this method.
Why is this method touted for making the best brew?
Eggshells contain calcium carbonate, which helps to neutralize the acid extracted from the coffee.
Since there is no paper filter, we keep all the wonderful essential oils in the coffee beans
There are also several enzymes in the egg which neutralizes the bitterness often found in coffee.
You get a super smooth and mellow cups of coffee. So smooth you may want to skip the milk or cream.
Here is the recipe that I found at Saveur.
Swedish Egg Coffee
Ingredients
1 1/2 cups ground coffee
 1 egg slightly beaten
Instructions
In a small bowl, stir together coffee, egg, and 1/2 cup of cold water into a paste. Bring 6 cups water to a boil in a 4 qt. saucepan over high heat, and add the coffee paste; boil, stirring, for about 3 minutes.
Remove from heat and slowly ladle coffee through a fine strainer. Serve immediately.
It is a bit of a bother for office coffee! However, it is a great conversation piece and fun to try! Also, it WAS a great tasting cup of coffee!