Young Computer Programmers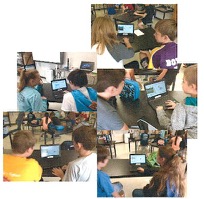 Who doesn't like acronyms? Well here are a few-the STEAM class participated in the NYSD during the month of October. This translates into a class of 6th graders, who work on activities involving Science, Technology, Engineering, Arts, and Math participated in the 4-H National Youth Science Day during the month of October. What is NYSD? Every year, the National 4-H council presents an activity for students across the United States to participate in. This year, it was entitled "Code Your World" (developed by Google and West Virginia University Extension Service) and it covered computer programming using the online program SCRATCH (I don't believe it is an acronym- learn more about SCRATCH).
Throughout October, Mrs. Pam Patterson taught lessons on how to use SCRATCH and then the students created their own version of each activity. In this process, the students learned about loops, conditional statements, animating graphics, and adding sound to the program whether choosing a sound or recording their voice. The students did other "programming" activities without using their Chromebooks. One activity was to script the steps to the chicken dance for another person to follow.
It has been mentioned the activity for next year's  NYSD will be computer science based. I can't wait to see what this group of students will do with that activity!